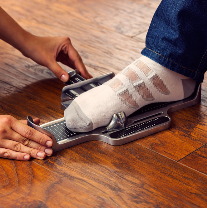 At Circle E Western Store, we believe the best way to know what size boot or shoe you wear is to measure your feet. We use the Brannock measuring devise to take an accurate read of your foot length, the your foot width, and your arch length. Once your size is determined, we can help you select the right fit from our assortment of sizes.
We carry B, D, and EE widths to ensure the right fit for your foot!
Circle E Western Store has a fully stocked hat bar and expert hat shappers to ensure you leave with the hat you want - shaped just the way you like it! We carry cowboy hats from Ariat, Twister, Resistol, Stetson and American Hat Company in a wide variety of quality from wool hats to 60X felt hats. We also stock brim sizes from 3 1/2" to 5".
Reshapes and cleanings are free to our loyal customers!
We Stretch Boots and Leather Shoes
Do you have a pair of boots you love, but they are just too tight? As a service to our loyal customers, we stretch most boots and leather shoes for free. The longer you can leave them with us, the better the stretch will hold! However, a few hours on the stretcher will begin to make a huge difference in the fit and feel of your boot.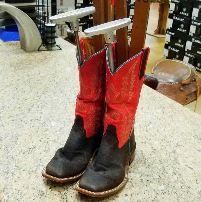 Give us a call today to learn more about the services Circle E Western Store offers to their loyal customers!
(903) 885-4481